Daily Market Analysis
Review our intraday commentary to learn how we interpret price action and build a market narrative.
Drag the blue slider to reveal the day's price action. Dots on the timeline represent comments and can be clicked. View the table below for all market-related comments and annotated charts (including those from after hours).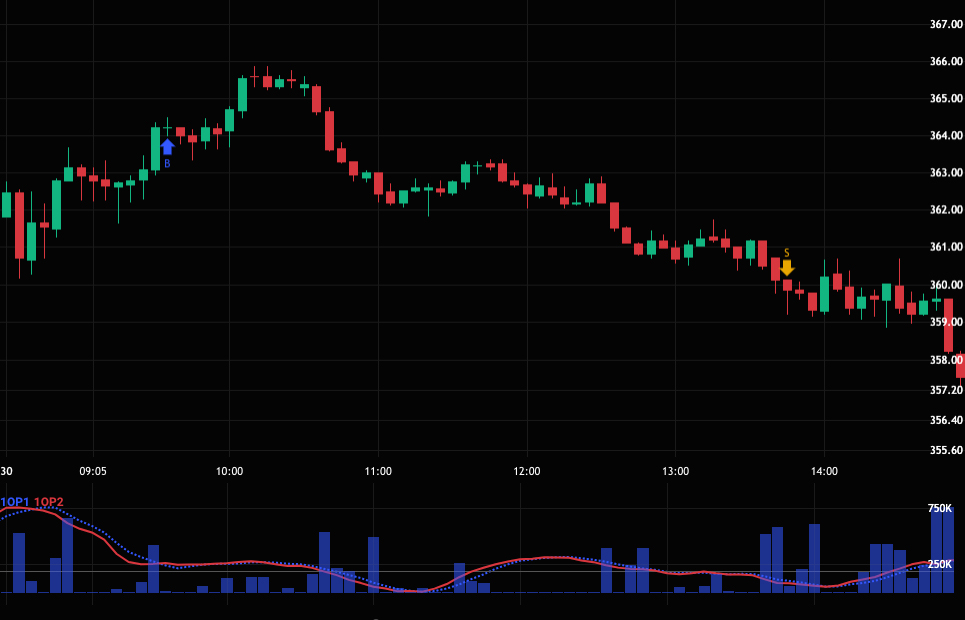 All Comments
Click to expand content and reposition slider.
06:55:23




Pete

Short ES 3676.5. We had a bearish 1OP cross and a lower high double top. 

06:57:02




Pete

We are also thru the low end of a compression. I have not actively traded the overnight session, but the 1OP signals are excellent so while I am doing my morning research I can try a few trades. 

06:59:01




Pete

Asia generally weak, but Europe bouncing. Backdrop if fairly neutral.

07:11:26




Pete

I will take gains when this ES move stalls. Want to lock in gains. Overseas not doing much and 1OP in deep trough

07:14:05




Pete

Exit ES 3662.50 14 pt gain

07:14:34




Pete

Candles getting smaller and I just want to take a piece out of the move.

07:33:16




Pete

Would I trade this pre-open bullish 1OP cross? Yes, but the selling was very organized so the longer this compression holds, the more confident I get. The action before this drop had a lot of mixed candles with tells me...

07:34:39




Pete

That red candle is what I need. I would like to see another red candle here that produces a bullish hammer

07:47:21




Pete

It is a good thing I am waiting. Right now I would be taking unnecessary heat and I would be risking another move lower. Instead, I patiently wait for confirmation that support is in. 1OP is early. The crosses put...

08:02:07




Pete

Joao wrote: @HariseldonQuestion  You went long SPY just after SPY made loy. That was profitable for you, you justified it later (that must have been a pain and hard for us all to understand), etc. Did that help people struggling? I...

08:02:54




Pete

Long ES 3662

08:05:01




Pete

I got those two bullish hammers and then we closed above the open from the previous red candle. That was the pattern I was looking for and that last dip was a marginal new low. 1OP did NOT cross down...

08:26:08




Pete

Loving this candle.

08:28:33




Pete

Exit ES 3668. That was an 8 pt gain

08:29:08




Pete

We have the PCE coming out in 2 min and I don't want to have a position on during that release. That is 20 pts pre-open just trading 1OP

08:31:36




Pete

Eye's wide open. Those who get blindsided by scheduled news are fools.

09:07:43




Pete

I could justify an ES short here, but I will wait for the open 

09:09:49




Pete

Zen_Trading wrote: It's clear why the market dumped after PCE came out, but do what you think caused the premarket gap up to mostly disintegrate beforehand? Mainly anticipation for a bad PCE?  Why do I care? If I just follow price...

09:12:44




Pete

If you think for a second that you are going to glean some useful information from CNBC or other sources, you are wrong. If you think that you are going to analyze reports better than Goldman Sachs and their billion...

09:28:34




Pete

My morning comments. The market is testing the loy and we have to be careful. This is a critical juncture and we can expect 2-sided trading as buyers and sellers battle it out. The reaction to the PCE has been...

09:29:33




Pete

1OP is going to start off on a massive 1OP spike so we want this bearish cross to produce. IT IS BEST TO WAIT 30-45 MINUTES BEFORE YOU TRADE.

09:30:38




Pete

Lots of discussion about why Hari told us not to trade. The better question is, "Why did Pete encourage us to trade?" I should not have. Waiting is always best. 

09:41:27




Pete

We want to see this bearish cycle produce. We will get the cross soon and taking out the loy on the first shot will give us good movement today

09:55:03




Pete

A FOMO trader could have jumped on that nice long red candle right away thinking that the market was going to tank after the PCE. They are getting flushed out now. Once this sht sqz is over, we will see...

09:56:13




Pete

This bounce is also helping us filter out the "real McCoy's". RW will be easier to spot now.

09:59:59




Pete

This is a small resistance level from Thurs. We have a bearish hammer off of the hod. If we can chew thru $362 (half of long green candle) I will start considering a short. 

10:06:58




Pete

10:07:20




Pete

I was asked to post a few custom searches. This one is basic and effective

10:08:16




Pete

Market is holding the top of the long green candle. If it can't advance in the next 10 min it will start to retrace and then a short will set up. That would be a sign of resistance.

10:10:07




Pete

I am preparing to short ES but the longer I hold off the better.

10:12:02




Pete

A nice long green candle to new hod that finishes as a bear hammer is what I want to see. 

10:14:01




Pete

Short ES 3650

10:15:26




Pete

I am trading the 1OP cross and the resistance building at the top of that last green candle which I suspect was created by a sht sqz

10:16:05




Pete

Now I have some tech confirmation as we test the middle of the green candle

10:17:09




Pete

The biggest issue shorting here is that we are fairly close to the loy so there is not much downside. I want to see us attack the lod from Thurs. If we just drift down to it I will take...

10:20:06




Pete

Russ wrote: IWM very strong todayGood info. Let's see if it holds

10:20:35




Pete

The action so far today is very lackluster

10:22:17




Pete

I don't like the price action for ES and if I do not get a nice long red candle here I will exit and wait for better action

10:23:08




Pete

Exit ES 1/2 pt loss

10:24:00




Pete

tiny bodies, long wicks and tails close to major support. no need to force ES here. I would not have an issue shorting weak stocks. 

10:47:20




Pete

The last long green candle is what I am watching. We need to briskly take out the open of that candle to consider and ES short

10:49:51




Pete

This bearish cycle has not produced so far. The quality of the rally is not very good either. Long green candle, compress, long green candle, compress. 

10:52:10




Pete

Tony N wrote: Question @Pete, how much of an impact does the end of the month rebalancing have on the price action today? This has been a muted response to the PCE data from this morning. The rebalancing requires funds to sell...

11:10:15




Pete

This reminds me of the rally we saw two days ago. Long green candle, compress. That pattern repeated the entire day. Low quality drift higher

11:27:51




Pete

11:44:19




Pete

That is a nice retracement and it destroyed those green candles. Now we might get some selling. I would prefer to short ES at a higher level. No need to chase. You can see that these candles all retrace.  

12:53:19




Pete

I am interested in shorting here. That was a heavy round of selling off of the hod. This little bounce has not retraced much and in all likelihood it will turn into a bear flag. 

12:54:12




Pete

The lackluster  price action today and the choppy action has be in defensive mode so I want to make sure the entry is good

12:55:29




Pete

we will get a bearish cross in 2 bars or so

12:59:43




Pete

Hariseldon wrote: Barkin: "...difficult decision for FED is determining what level is sufficient to stop"Yeah that is the level of confidence you want to hear from the person driving the car towards the cliffThey spent the first year telling us...

13:01:54




Pete

Short ES 3648

13:02:45




Pete

I am a touch early on this 1OP cross, but I like the red candles stacked off of the hod and this wimpy little bounce that sets up well for a bear flag. 

13:06:28




Pete

If I do not see nice orderly stacked candles on the next leg down, I will take gains when the move stalls and the candle bodies are tiny. We have the loy below and the closer we get to it...

13:09:37




Pete

1OP M30 is bear cross on next bar and it has been good both ways so that should also help. 

13:33:06




Pete

Waiting for that 1OP cross would have saved me a little money and it would have provided a little different perspective. Now I see a bunch of mixed candles and support at a level I expected to fail easily. Now...

13:36:50




Pete

ES stop at 3648 (entry). I do not want to go back there. 

13:40:24




Pete

Choppy, stubborn, tenuous moves. I set a target of 3633 for half of the position. 

13:47:42




Pete

Exit ES 14 pts on entire position

13:48:31




Pete

When I get a quick drop like this on a choppy day I want to take nice gains. The chance of retracement is great and if I still feel that the move has momentum I can always get back in. 

13:49:14




Jerson

My thought exactly @Pete We go from Chop to trend almost instantly 

13:49:39




Pete

@Jerson Yes, nice move with momentum and then stall and chop

13:50:42




Pete

If the bottom falls out, I will not lament about what could have been. I did the right thing for me. Besides, if the bottom falls out, I know another great trade will set up and I will catch that...

13:52:44




Pete

If I get the retracement I am expecting, I will be happy that I did not get greedy and that I respected the context of what has been happening today.

13:54:11




Pete

Now I would be pissed that a third of my gains are gone on one bar.

13:55:21




Pete

ES is much different than trading stock. I can look at the M5 chart and recognize that I should be favoring the downside. However, trading this beast is different from watching it.  

14:00:21




Pete

In the context of a choppy market (not a trend day), if I get a nice fast sharp move lower I will set some aggressive targets well below the current price. "Come and get me." If those orders do not...

14:03:46




Pete

Everything still looks bearish to me. Short little pause and minimal retracement. I believe the next leg lower is coming

14:04:26




Pete

We still have a nice portion of the bearish cycle left as well since it is just crossing zero now.

14:05:56




Pete

My only hesitation is that we are pretty close to the loy from yesterday and that there will be a battle down there

14:17:26




Pete

@TheProfessor1970 @Hariseldon I'm confused. One of you is long and the other is short. I would not be surprised if you both make money, but I will watch.

14:21:35




Pete

The only pattern that gets me off of the sidelines in the next 45 min is a drift lower where we find support above the loy and we get a nice deep 1OP trough and bullish cross. I would buy...

14:45:06




Pete

@TheProfessor1970 Sorry. We had a discussion about Featured Traders being on opposite ends. No confusion here. I see both sides in play.

14:53:07




Pete

I am licking my chops over that last bullish hammer on the loy with a bullish 1OP cross pending on a trough. Won't rush the gun, but this is a pattern I would trade on the long side. Just need...

14:54:36




Pete

1OP is going to take at least 3 or more candles for that cross so I will wait. No trade is OK for me too if things do not set up.

15:03:36




Pete

Now we could rally to Prof's level and finish the day with a doji

15:04:43




Pete

I am looking to buy, but I do not want to chase. I need to enter well and this candle has not finished. For all we know it is a solo to lure in dip buyers

15:15:05




Pete

... and this is why we wait. That beautiful bullish engulfing candles looks much different 10 minutes later doesn't it?

15:18:15




Pete

spectre wrote: trading really is difficult. I can't imagine how many traders got washed out from that bullish candleNo one is forcing any one to trade. Resisting temptation is a huge part of trading. You just have to wait at...

15:20:02




Pete

Bulls and bears are continuing to battle it out. I still feel it will be hard for them to take out the loy with only a little time left. The longer we poke around here the greater the odds for...

15:23:04




Pete

we could be in a meat grinder until the close. I will see if I can find a bullish lotto. It will be hard. I feel that might have the best odds of working, but with this chop, no trade...

15:29:45




Pete

Long ES 3620

15:30:15




Pete

I am sufficiently satisfied based on the tails under body that there is support and I have a bullish 1OP cross

15:31:07




Pete

Nice. Stop 2 pts above entry. That was good timing

15:31:46




Pete

I came up 100% dry on bullish lotto searches and I tried for a good 20 min to find one

15:32:57




Pete

Exit ES 2 pt gain. LOL

15:34:00




Pete

I looked like a genius. Good thing I had that stop in above my entry. At least I will make something on the trade.

15:37:07




Pete

After that last trade, I am done for the week. Let's see how we close.

15:53:56




Pete

Zander wrote: Superpantz wrote: Pete wrote: I came up 100% dry on bullish lotto searches and I tried for a good 20 min to find onewhen that happens it could be a sign that we're not ready to move higher...

15:58:15




Pete

What a nasty thing to do on the last day of the quarter. New loy

16:05:32




Pete

The key was not getting sucked into that lame early rally. When it caved it fell apart quickly

16:30:44




Pete

16:32:05




Pete

Bonds in general got hit hard today. When I was looking for bullish lottos TBT (contra bond ETF) kept coming up.

16:47:34




Pete

HelloMountain wrote: Question So I think in the past few days I've seen more SPY trades by the Red and Orange traders than before, and it has me wondering because a) there is no edge on trading SPY, but also...

17:17:51




Pete

I am done for the day, the week and the quarter. Have a great weekend everyone!