Daily Market Analysis
Review our intraday commentary to learn how we interpret price action and build a market narrative.
Drag the blue slider to reveal the day's price action. Dots on the timeline represent comments and can be clicked. View the table below for all market-related comments and annotated charts (including those from after hours).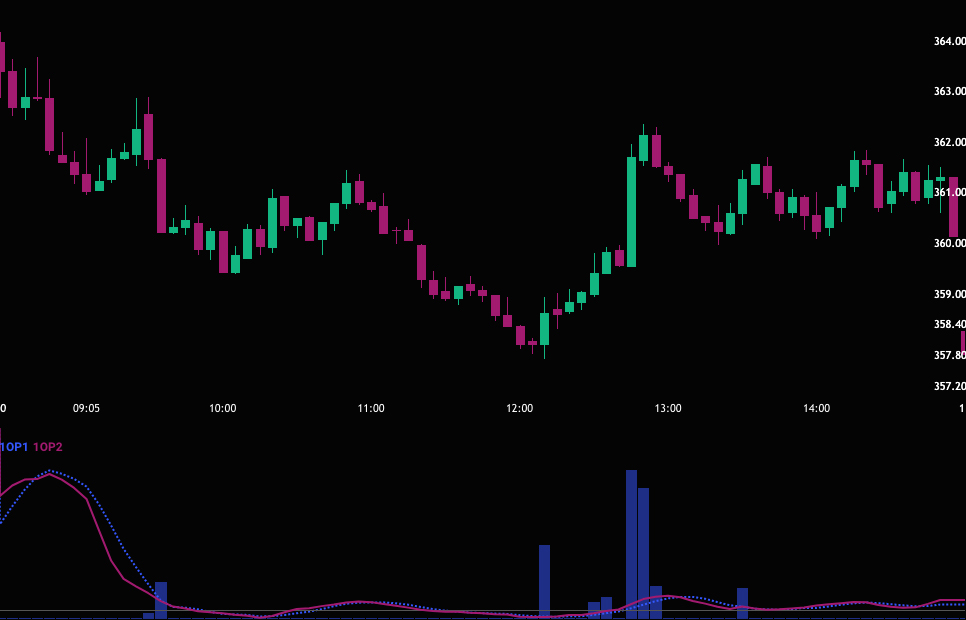 All Comments
Click to expand content and reposition slider.
09:31:58




Pete

PRE-OPEN MARKET COMMENTS MONDAY – With the exception of solid job growth in the US, the headlines are downright depressing. The Fed plans to tighten knowing that a recession is the only thing that can tame inflation. Consumers are spending...

09:38:06




Pete

09:40:07




Pete

I did not mention one of the most important trading tips today. This is going to be a lackluster, choppy trading day. Why? It is a Monday and it is a banking holiday. Keep it light! This is one of...

11:17:35




Pete

This is a downward sloping M5 channel. We had a nice bearish 1OP cycle. Now I would wait for the bullish cycle to run and reshort if the bounce is meager and the M5 down trendline remains intact.

11:38:19




Pete

11:39:07




Pete

When we get that selling climax it will be a long red candle thru the lower downward sloping trendline.

12:08:16




Pete

We tested the $361.20 level which was the low from Fri. It is also the half way point of the long  red M15 candle and it is the top of the M5 down trendline. There is a 1OP bear cross....

12:09:14




Pete

In a choppy market could we test $361.80? Yes. However, this looks like a good entry point to me and I would be willing to take heat to that level and possibly add. 

12:30:36




Pete

Izzy wrote: Question Pete wrote:When we get that selling climax it will be a long red candle thru the lower downward sloping trendline.Pete what tends to happen after a selling climax that breaches the downward sloping trendline?  Do we usually get...

12:38:04




Pete

Tiny bodied candles at lod in a light choppy market. I would take gains here even though 1OP might still have some room. This is a day to set passive targets. If you took the two bearish crosses today, that...

12:39:23




Pete

"How do I know when to take profits and when to let it run?" I just gave you an example of when to set passive targets.

13:50:37




Pete

I had mentioned taking gains on shorts earlier and setting passive targets. In a dull market like this you do not need the risk exposure. You can look at what ever news sparked the rally, but it really does not...

13:53:04




Pete

There were plenty of shorts into the news. That was the side you should have favored. They could be squeezed... and they were. This is why you take gains, wait for a stalled bounce and reload. When you are waiting...

13:55:39




Pete

The beauty of this move is that it is testing the M5 down trend line. If we poke above it, that will attract longs and  it will shake some shorts out. Then we have the right setting for a possible...

14:01:54




Pete

I like being short here. I would add if the mid point of the green candle fails in next 10 min

14:02:41




Pete

SPY $360.80 is around that level. That is also the VWAP

14:03:40




Pete

It needs to happen quickly. If the market just floats around it is a sign that there might be a decent little bid or that sellers are just not that anxious today.

14:05:40




Pete

What you want to see as a short seller is that buyers just don't care about this news (or believe it). They are more worried about other macro issues. 

14:18:14




Pete

That breach of the VWAP is where you would add. Consistent with being passive, you set your stop at the ave entry price which is well above the VWAP. You have the pattern I mentioned and the selling off of...

14:20:27




Pete

This is is you were trading ES. If you are in a weak stock, you have more latitude. I give you those levels and the strategy as an example, not as an absolute of how you must trade.

15:01:42




Pete

We've had a little movement today and with an hour left we are likely to chop around the VWAP the rest of the day.

15:05:21




Pete

PPI Wed. I was wrong about the FOMC minutes on Wed. I just checked the Fed's website and I don't see them listed from the Sept meeting.

15:06:21




Pete

As  far as I am concerned, that is good. It would be just one more thing to wait for. They have been so @#$% vocal, what more can they possibly add.

15:06:56




Hariseldon

I have FOMC minutes being released on Wed. at 11am (pst)?

15:07:12




Hariseldon

On several calendars actually - is that not correct?

15:09:39




Pete

Recent Fed speak ... we are going to keep raising.... forget any notions  that we are going to ease in 2023.... inflation is going to be around for a long time.... recession signs are surfacing, but we don't care... we...

15:13:08




Pete

That is from their website. It would be unusual for them not to release them. 

15:13:59




Pete

Especially with all of the "transparency" they are providing. I will bet they forgot to update the website. 

16:11:37




Pete

BreakfastCrayons wrote: one could say, news aside, @Pete called it, with the tough to break channel on SPY, breaking to the downside around 1PM ? Yes, the b.s. story broke, but that also was about when it reversed (or am...