Daily Market Analysis
Review our intraday commentary to learn how we interpret price action and build a market narrative.
Drag the blue slider to reveal the day's price action. Dots on the timeline represent comments and can be clicked. View the table below for all market-related comments and annotated charts (including those from after hours).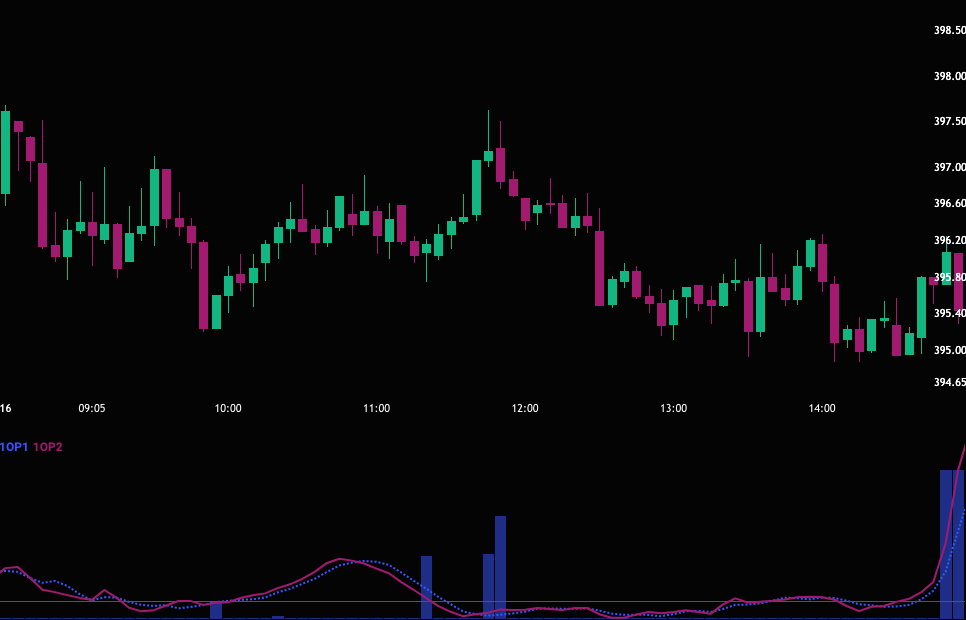 All Comments
Click to expand content and reposition slider.
07:07:41




Pete

mindplanet wrote: @Pete Pete wrote: There is a 1OP bullish cross. Not the kind I like. I want to see the blue dotted line flatten [email protected] What does it indicate when there is blue flat line?Like most indicators there is a fast...

07:13:44




Pete

WinstonTheTrader wrote: Question for option stlkaer alerts.I got a message saying only 2 alerts active maximum. If I click on the alert will it active? or do I have to manually activate them. I am creating 6 alerts and would...

07:29:08




Pete

Irelia wrote: I just finished reading the credit article wrote by Pete. Now I have a feeling of impending doom and I'm not sure how to feel. My thought are: "You mean to tell me there is a very high...

07:44:43




Pete

I don't like talking about a credit crisis because of the dire consequences. I sleep well at night knowing that I don't have to worry about it. If I focus on what I can control (health and relationships) and I...

09:04:03




Pete

flowbee wrote: I not trading this a.m . I'm @ ceremony for wife, today she is becoming an AMERICAN citizen yeah!Congratulations!

09:31:25




Pete

PRE-OPEN MARKET COMMENTS WEDNESDAY – The market broke through resistance last week and on a move like that it is critical that we see follow though. If we don't, the risk of a pullback increases every day. The reaction to...

09:50:49




Pete

Bearish 1OP cross and < prior close and new lod. If you have good stocks to short you can try a little here. I am going to wait for a good set up. 

09:51:50




Pete

What would have prompted me to trade earlier in the day this week would have been heavy volume and bullish price action. Without that I feel we will test the bid and prove for support. 

09:52:04




Pete

probe

10:04:16




Pete

Idan wrote: Question OK. Then I clearly have more reading to do, but before arriving here, a 10% short would have been enough for me to call it a day. I wanted to play a slot machine but you told me not...

10:11:16




Pete

Idan wrote: Question So far, this does NOT seem like a nice group of people. Not sure what to say anymore. It's OK to crititicize, but I always feel attacked here. OneOption is not for everyone. We trade a very specific system....

10:27:21




Pete

1OVol < 0. Mixed tiny candles. Keep it light

11:59:56




Pete

12:02:07




Pete

If you know what you are looking for and what the variables represent, Custom Search will find anything. No need to build, I have already done that. Create, name, describe what the search is and when to use it, save.

12:08:05




Pete

I hope to release a beta version of the platform this week so some of you can try out the new workspace feature. I am expecting a few bugs just because of the magnitude of everything that needs to be...

12:15:42




Pete

Sooner or later one of these cycles will be a good one. Maybe this bearish one. The last bullish cycle was lame. We have some wicks, we are < prior day close, and there has been a general bearish bias...

12:31:42




Pete

12:32:54




Pete

M is weak

12:40:10




Pete

13:09:28




Pete

I wanted to take all of this fun to the next level so I am off to see the dentist. See you near the close.

15:52:26




Pete

I only saw one little set up today and it was nothing to write home about. 

15:52:46




Pete

15:53:45




Pete

I forgot to remove the 200-period average. No I do not use it to day trade. 

16:22:40




Pete

@yetti123 It's hard to fly a kite when there is no wind. It is hard to day trade when there is no volume or momentum. Part of trading is knowing when to trade and when not to. 

16:25:35




Pete

There are two components to a trade. The breakout and follow through. The breakout gets the stock on our radar, but it is the follow through that makes us money. On days like this where we are trapped in a...

16:26:49




Pete

@yetti123 It's encouraging that you only took two trades today. That showed some restraint. Congrats on that!

16:31:30




Pete

@Cerium The lesson you learned will be very valuable the rest of the year. Typically, the market floats higher on light volume in Nov and Dec. You can lean on seasonal strength most years, but I am not feeling that impetus...