Daily Market Analysis
Review our intraday commentary to learn how we interpret price action and build a market narrative.
Drag the blue slider to reveal the day's price action. Dots on the timeline represent comments and can be clicked. View the table below for all market-related comments and annotated charts (including those from after hours).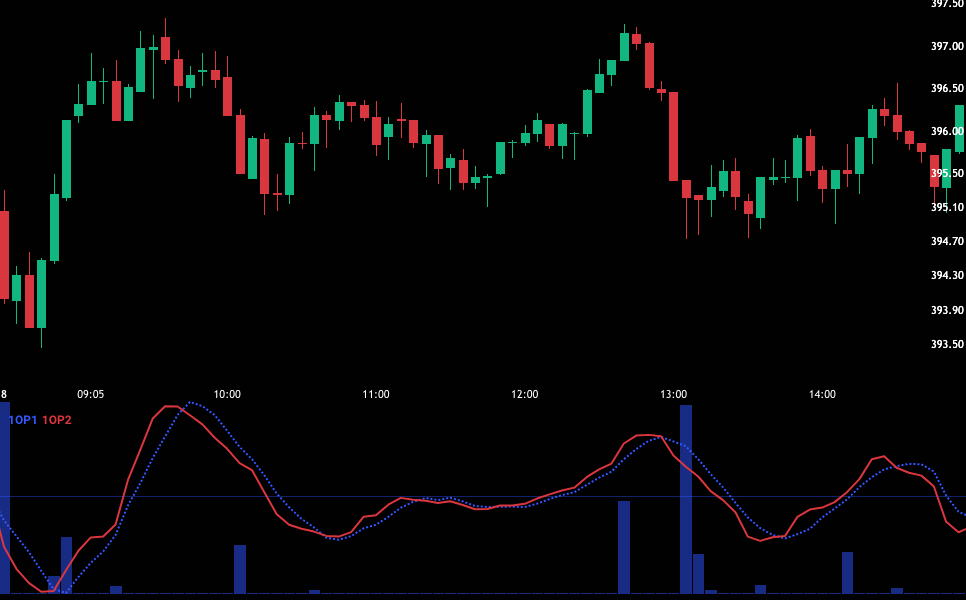 All Comments
Click to expand content and reposition slider.
09:31:57




Pete

PRE-OPEN MARKET COMMENTS THURSDAY – There is not much overnight news. China is loosening Covid-19 restrictions and their market is up overnight. The ECB has Fed Speak today and European markets are flat. The 100-day MA held yesterday and we...

09:33:49




Pete

Good morning!

09:39:41




Pete

In the back of your mind you should be thinking, "this is going to be a slow day. we are inside the prior day's range and the volume is light. traders will be waiting for the PPI. as long as...

09:59:42




Pete

This is a nice move. We went  right thru the prior day high and bullish 1OP cross. I would favor the long side here

10:04:59




Pete

I like the breakout, but I do not like the volume. If volume would have spiked I would consider the breakout legit. Since it did not, I have to make sure this is not just a headfake. We need to...

10:42:29




Pete

Light volume. We do have follow thru and the breakout is holding. You can see how the previous candles are retraced. Low quality rally without much substance behind it. We are also above $396. If you have a super strong...

10:43:37




Pete

If we get a bearish cycle and SPY falls back below $396 (very possible) then we go into a light volume holding pattern the rest of the day

10:44:21




Pete

Could you short stocks during this bear cycle? Yes, if they are super weak and SPY < $396.

11:06:43




Pete

Short ES 3964 1/2

11:16:58




Pete

I'm not willing to risk a lot on this position. I need to see continual drift lower. Stop SPY $3967. That gives me roughly 5 pts of room for it to move around. I have a $3954 bid for half...

11:19:44




Pete

For that ES entry we did not have follow thru, the volume remained light, we broke $396 and we had a bearish 1OP cross. 

11:20:57




Pete

We have a choppy light volume day where we can expect reversals at the extremes and we had the conditions I outlined above to justify the trade.

11:21:33




Pete

Notice, I only traded 1/2 size because of the conditions. Not going to make or lose a lot

11:23:57




Pete

Exit ES for 10 pt gain $3954. I still have the other half on. Lowered stop to $3960 on remaining

11:28:16




Pete

Choppy day. Why not take gains on the other half? I could, but I have  a free trade that I can't lose money on and it is small size. I have a bearish 1OP cycle that still has room so...

11:29:41




Pete

Exit ES for 4 pt gain on remaining. Stopped out. Overall, 7 pt ave gain. Only half size so 3.5 pts vs normal trade.

11:32:40




Pete

Your expectations have to align with market conditions.  Pick your spots carefully and set passive targets. Plan to "eat like a bird". 

11:33:32




Pete

You need to avoid "eating like a bird and shitting like an elephant."

11:46:31




Pete

Bullish flag or double top? We don't know so we have to wait. For a bullish flag we need that 1OP cross and a nice move higher. I can't buy on this light volume until I see what happens at...

11:47:51




Pete

My suspicion is a fail here and then a lower high double top with a drift back down. 1OP bear cycle would continue and I would consider re-entering a small short

11:49:22




Pete

In order for me to "play" I would need to see a nice green candle that finishes with a long wick. I would probably short that. 

11:50:23




Pete

It needs to happen below the hod. That would tell me the bear cycle is likely to continue and then we keep drifting lower.

12:09:03




Pete

I'm glad we got two good trading days this week. TY St. Nick. We might get some action off of the PPI tomorrow.

12:32:27




Pete

Good day not to trade. I would give a tiny edge to the short side here. 1OP barely made it back to zero. Low quality cross, but it looks likely. We never got close to the hod during this bullish...

12:39:39




Pete

The risk of trading light volume like this is that we get some recycled news that hits the wires. Then the market goes nuts for 20 min and wreaks havoc on your positions. Any hard stops are taken out. 

14:07:02




Pete

Yes this looks like news hit. Probably what I mentioned before - recycled

14:10:16




Pete

This is all choreographed between trading firms and media if you ask me. I have no way to prove it, but I know this pattern. Notice how the market was on the brink of making a new high and it...

14:13:08




Pete

The media times the release for maximum impact. The trading firms just say they had their programs set and their optical readers executed them based on key words. Why would the media care about a market drop? Because they charge...

14:14:10




Pete

Ver convenient. Don't take my word for it. Track it. Once you see a few dozen with this exact pattern you will agree.

14:22:16




Pete

From my vantage point, I am not going to make a big deal out of these recycled news moves. All I can do is to inform you in hopes that you keep your risk exposure low. 

14:22:58




Pete

They do typically reverse. If you were looking to buy, this is a decent entry point. The bleeding has stopped.

14:26:19




Pete

These moves do destroy trader confidence. Tick, tick, tick the market is moving higher and all of their indicators are lining up. It is a light volume day so they place protective stops on their longs... just in case. Blam,...

14:31:24




Pete

This business is ALL about money. If you are not skeptical, you should be. If you don't think the game is rigged, you have not traded long enough. You can use all of this to your advantage. Learn from it....

14:33:37




Pete

1OP is dropping and we are seeing tails. That is a sign of support. wait for that cross and expect that the move will retrace. When the trading firms do not see follow thru, they will start to cover and...

14:38:25




Pete

The news you have to be careful of will have 3 consecutive stacked candles on extreme volume. No pause. That is a short stupid set-up and there is follow thru. Now that Trump is out of office, they are rare...

14:40:05




Pete

Notice how the second candle is a doji after the first? That is your "tell"

14:41:53




Pete

Long ES 3958 1/2 position

14:42:03




Pete

That is just to clean it up

14:45:44




Pete

We are close to a bullish cross, support has been established, this is light volume chop and I am going to take a small trade on the notion that this recycled news move will retrace. I am not looking to...

14:47:06




Pete

Here comes the bullish cross. I need to get > VWAP in the next 10 min or I will exit. 

14:48:44




Pete

offering ES $3968

14:54:46




Pete

$3958 stop (entry)

15:01:22




Pete

Exit ES scratch 3958

15:57:45




Pete

GoalToGo12 wrote: Question Are PPI announcements a good setup for a strangle on SPY ?Define typical. If you are talking about the last 30+ years - no. Might it work tomorrow? Sure. Am I trading one? No.

16:01:29




Pete

Words like "generally", "typical", "always", "never" should "typically" not be included in "general" questions.

16:03:45




Pete

"Pete, inflation has been the primary focus the last year and it is hitting 40 year highs. Option IVs are low based on the VIX and the PPI is coming out tomorrow. Do you think that in this instance a...

16:05:09




Pete

To which I would respond, how much is the straddle cost? What move is expected? How has the market reacted after the last 4 PPI releases? What has been the % move? 

16:11:18




Pete

Questions are easy to ask. I am trying to encourage you to think about the answer before you ask it. What variables might you have to consider to make an informed trading decision? Is there any history that suggests that...

16:47:47




Pete

I try to learn something from the price action each day. I learned nothing new today. We are in wait and see mode for the number.

16:47:57




Pete

Have a great night everyone.