Daily Market Analysis
Review our intraday commentary to learn how we interpret price action and build a market narrative.
Drag the blue slider to reveal the day's price action. Dots on the timeline represent comments and can be clicked. View the table below for all market-related comments and annotated charts (including those from after hours).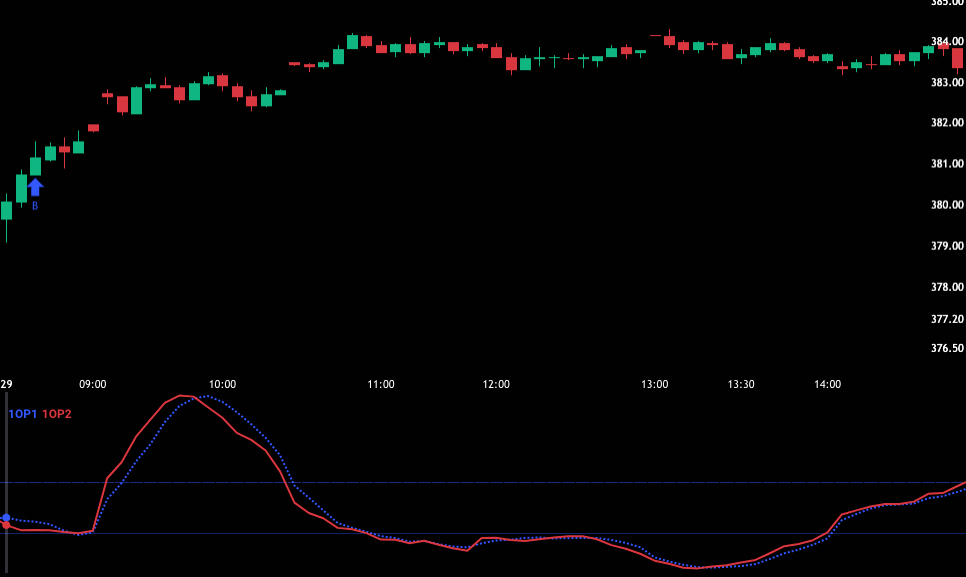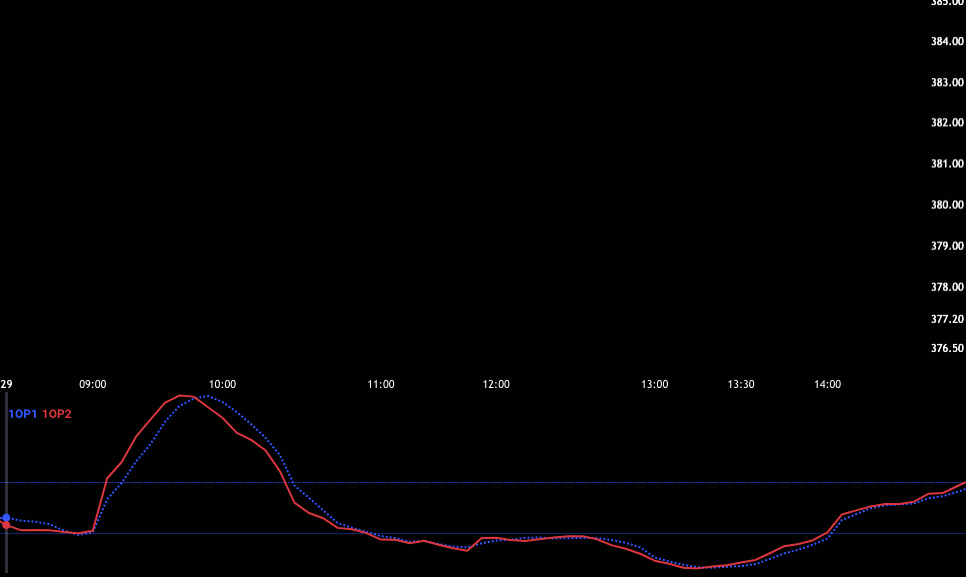 All Comments
Click to expand content and reposition slider.
09:43:25




Pete

3 stacked green candles and a bullish 1OP cross to start the day. as you might imagine, light volume is a concern. 

10:07:16




Pete

I know it is early, but I would favor the long side today. 

10:08:13




Pete

These are really nice stacked candles and we've had some volume on this move higher. 1OP is extended, but far from rolling over. 

10:08:39




Pete

When it does, we want that bearish cycle to be benign. That will set the table for a possible up trend day. 

10:09:38




Pete

If not for the fact that this is pre-holiday trading I would trust what I see. The fact that this has been lame price action in the last week means you have to reduce size

10:30:49




Pete

This is very bullish price action and the volume is good. I would trust this. We are nearing $383.38. That is the high from 12/22. Anything above that we start filling the gap. We are almost thru this bullish cycle...

10:31:27




Pete

I am referring to M5 gap on 12/22 BTW

10:43:07




Pete

We just need to watch the market price action today and Fri. If there are no signs of market selling, I don't believe we will come in Tues with a big gap down. A move down will have to unfold...

10:49:04




Pete

1. We want to see a benign bearish cycle and we want to stay > $381.50. 2. On any retracement, mixed tiny candles and no consecutive long red candles. 3. Staying tighter to the high than $382 would be better....

10:53:32




Pete

I am working on features. I have been trying to solve a puzzle for a very long time and I have some really good logic I need to focus on. After the close today I will talk about 2022 and...

10:55:01




Pete

Parting message: Stay long, try to weather this cycle, this is bullish price action, if we stay tight to the high = bull div and we will continue into the 12/22 gap. Pre-holiday so don't go nuts. 

11:38:56




Pete

This is exactly the price action we wanted to see and we are  trying to get thru the high from 12/22. So far bear cycle benign and this is looking like a bullish div. 

11:40:40




Pete

Long /ES $3873 full

11:42:13




Pete

My stop is just below the open of the long green candle. I am early. 

11:42:46




Pete

I have the prior high of day (today) that should be support and the mid point of the long green candle as well 

11:43:59




Pete

The retracement during the first half of this cycle was minimal and that has me bullish along with the decent volume during the first leg of the rally.

11:44:52




Pete

This was a natural resistance level and in a choppy go nowhere market they would have spanked this rally down. The fact that they did not tells me that there are buyers here.

11:46:05




Pete

I want to see some steady progress into the gap in the next few bars. 

11:47:01




Pete

If my read is correct, 1OP will barely make it back to zero and then the bull cross will send us higher.

11:48:54




Pete

We are clearly thru resistance as well. 

11:51:41




Pete

$3870 stop. That is 3 pts below my entry. Want to give it room. Expecting a float higher. Back to work. I will exit when gap filled or bullish cycle nearing end.

11:53:02




Pete

SPY 386.23 is where the gap fills.

11:54:17




Pete

$3898 target for /ES

12:22:05




Pete

You can see 1OVol > 0 for SPY. I like it.

12:24:44




Pete

$3873 stop that is my entry. At this late stage I am not expecting any pullbacks to my entry so I don't need to give it more room. 1OP bullish cross pending here  so I am expecting more upside, not...

12:34:19




Pete

I need to see a breakout in the next 2-3 bars. I have everything I want in this pattern, but I hate parking in tight compressions with /ES. The risk of recycled news is always looming on days like this. 

12:35:25




Pete

1OP has also started drifting back down and I don't particularly like that. Not bearish, just not bullish enough for me to want to stay in very long

12:35:55




Pete

Exit /ES 2 pt gain

12:36:01




Pete

$3875

12:38:22




Pete

I still like what I see, now I will wait for 1OP and see what happens to SPY while I wait. I don't want to see long red candles to keep my bullish bias intact.

13:09:57




Pete

This is a gap and go. the volume has dried up. I still believe this is a bullish trend day because we went into the gap and had nice price action on volume. Watch for this. The SPY is starting...