Daily Market Analysis
Review our intraday commentary to learn how we interpret price action and build a market narrative.
Drag the blue slider to reveal the day's price action. Dots on the timeline represent comments and can be clicked. View the table below for all market-related comments and annotated charts (including those from after hours).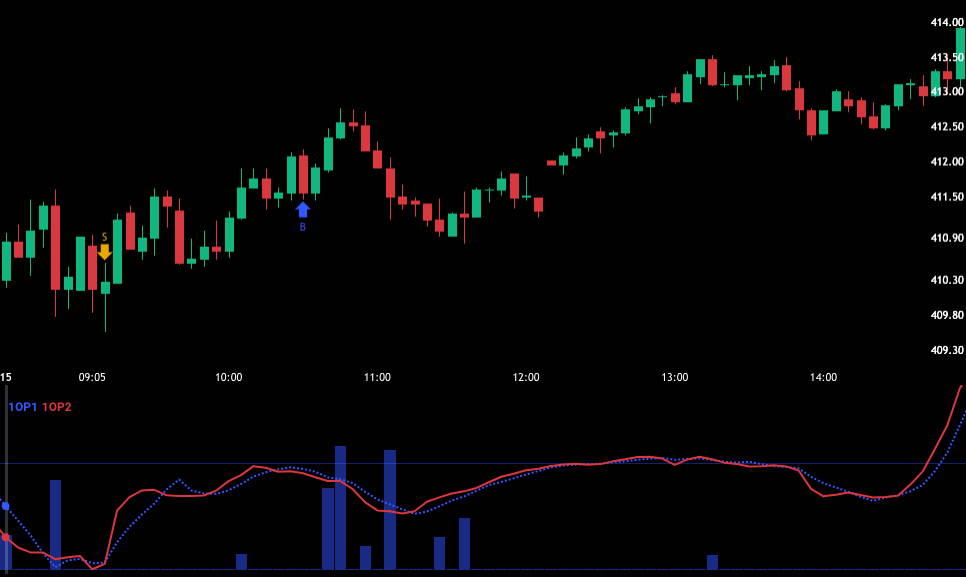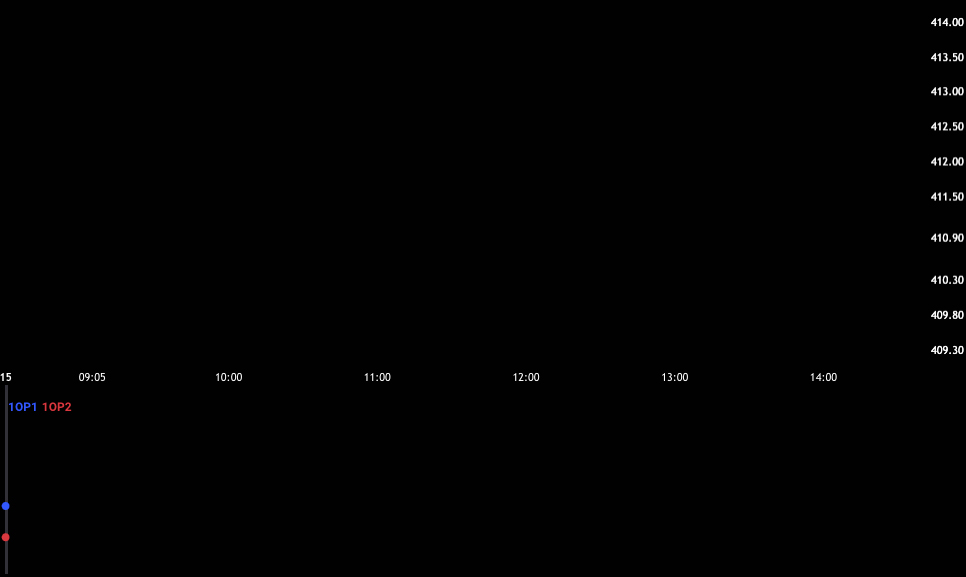 All Comments
Click to expand content and reposition slider.
13:00:49




Pete

Then you wait to see if it sets up. If not, you wait.

13:31:20




Pete

For that set up I referenced, I want to see a nice long green candle to turn into a bearish hammer or a nice red engulfing candle. Both well below the hod. This is not a fantastic trade, there is...

13:31:57




Pete

I don't know that this is a bull trap, we could blow right thru. I just see this as a good little set-up

13:44:57




Pete

This candle needs to have a long wick. If it does, game on. If it does not, we might not get the set-up

13:47:27




Pete

I would short at $412.40 if it happens quickly in the next 2-3 bars.

13:47:53




Pete

I have my alert set and I am going to keep writing

10:06:31




Pete

We did get the additional probe and that is why we wait. During that time, the dotted line in 1OP flattened out. It was going down and this is preferable. Now we want to see the half-way point of the...

10:24:04




Pete

$4125 bid for /ES

10:25:13




Pete

Long ES 4125

10:26:36




Pete

Offering ES 4135. If we get into the gap on this bullish cycle I will take my 10 pts and I feel the chance is pretty high given the support at the lod. 

10:27:45




Pete

I want to see some progress in the next 3-4 bars. If I do not get it, we are too far into the bull cycle without any attempt at a breakout and I will exit. 

10:40:27




Pete

Exit ES 4135 for 10 pt gain

10:41:11




Pete

Now I am going to turn off my screen and write. I really need to make headway on this.

11:16:40




Pete

 They shift their strategies and we need to as well. Conditions are changing. @Hariseldon: It is interesting - what we are witnessing is Institutional indecision on an incredible scale here.  While it is natural to think of Institutions as the...

11:28:03




Pete

I have not done the analysis on 0 DTE SPY, but for those of you who have interest in doing so, you can see the OI and changes for each SPY strike calls and puts in Max Pain to see...

11:30:57




Pete

From my personal experience, I believe the daily expirations are mainly retail. There is OI of about 1 million on a good exp across all strikes so there is some institutional play there. The big players make markets so they...

11:32:46




Pete

They don't have any massive interest trading those other than making markets IMO. If they have a short term directional bias they will go to the futures market where they still have > 30:1 leverage and deep liquidity.

11:34:32




Pete

The institutions also do a ton of arbing with cash (baskets) vs futures and I am sure when they identify an edge (program) they will use options as part of the system.

11:35:18




Fox

@Pete the vol funds I know are focused mainly on selling tails to harvest VRP (volatility risk premium). the flip side trade is more aggressive players targeting an ill-liquid strike and forcing the tail sellers to cover violently, often by blowing...

11:37:26




Fox

last note on this -- these players are pretty niche. "small"

11:37:30




Pete

Agree. Fat tail trades happen when we move out of the 2 SD range and then it is a gamma play (squeeze).

11:39:41




Pete

Ultimately, everything that flows into the options markets is reflected in SPY/ES movement and that is why my focus has always been there. 

12:08:50




Pete

The gap is filled for SPY. I am noticing that 1OP has been > 0 all day. I view that as slightly bearish

12:59:53




Pete

Slim pickins today. A set up I would watch for is an attempt to get back to the hod. That attempt needs to fail creating a double top lower high. We also want that to coincide with a bearish 1OP...

14:33:20




Pete

Did not get the set-up I was looking for earlier, but that long red candle off of the hod is a warning sign that resistance is forming.

14:36:25




Pete

This has been a nice strong rally and that means you give it extra respect. You do not short the first kink in the armor and you look for that red candle to be a "solo". If it is, it...

14:37:20




Pete

We are 5 bars passed it so it is NOT likely a "Solo". I am watching for an entry for a short.

14:40:39




Pete

Short ES 4150

14:43:48




Pete

$4155 stop. 

14:51:25




Pete

If we get to $4145 I will place my stop at my entry. I am likely to place a $4140 bid if this move gains traction. That second red candle is promising.

14:55:03




Pete

Stop at entry $4150

14:55:36




Pete

No target yet

14:58:56




Pete

I don't want to really trade this. $4140 bid. I need to keep writing and on a choppy day like this I am happy to grab another 10 pts if it comes quickly

15:04:16




Pete

Exit ES 4145 for 5 pt gain

15:33:20




Pete

Long ES 4148

15:33:51




Pete

mini double bottom higher low and bullish 1OP cross

15:36:17




Pete

I am writing, I just have the SPY M5 running in the background. 1OP has been spot on

15:43:24




Pete

$4155 offer. $4143 stop

15:48:44




Pete

$4148 stop. we are near the close. That is my entry point

15:55:19




Pete

Exit ES 4149. 1 pt gain

15:58:37




Pete

There was one nice entry for a trade today. I was not watching, but if I were I would have nailed it. I will annotate a chart. 

16:11:47




Pete

09:34:27




Pete

PRE-OPEN MARKET COMMENTS WEDNESDAY – Buyers and sellers are battling it out and we saw huge swings intraday after the CPI release. The PPI will be released Thursday. Retail sales came in better than expected this morning (3%).Let's keep this...

09:34:51




Pete

Good morning!

09:39:26




Pete

I will get you through the open and then I am going to write my article on trendlines. This will help you when they are released.

09:40:43




Pete

1OP is in a deep trough. If we do not see early selling, I believe that the bullish cross will produce and that we will try to fill the gap. 

09:42:06




Pete

How the hell can I draw that conclusion? The candles are tiny and it will not take much for us to get into the gap. We are above the prior low and we have seen two-sided price action. If sellers...

09:42:55




Pete

There you go, I can barely get my comments posted

09:44:57




Pete

You do not have to chase anything. Find your stocks as you are doing and wait for that bullish cross. We should have it in 2-3 bars. Maybe they will try to probe for support once more and that will...