Daily Market Analysis
Review our intraday commentary to learn how we interpret price action and build a market narrative.
Drag the blue slider to reveal the day's price action. Dots on the timeline represent comments and can be clicked. View the table below for all market-related comments and annotated charts (including those from after hours).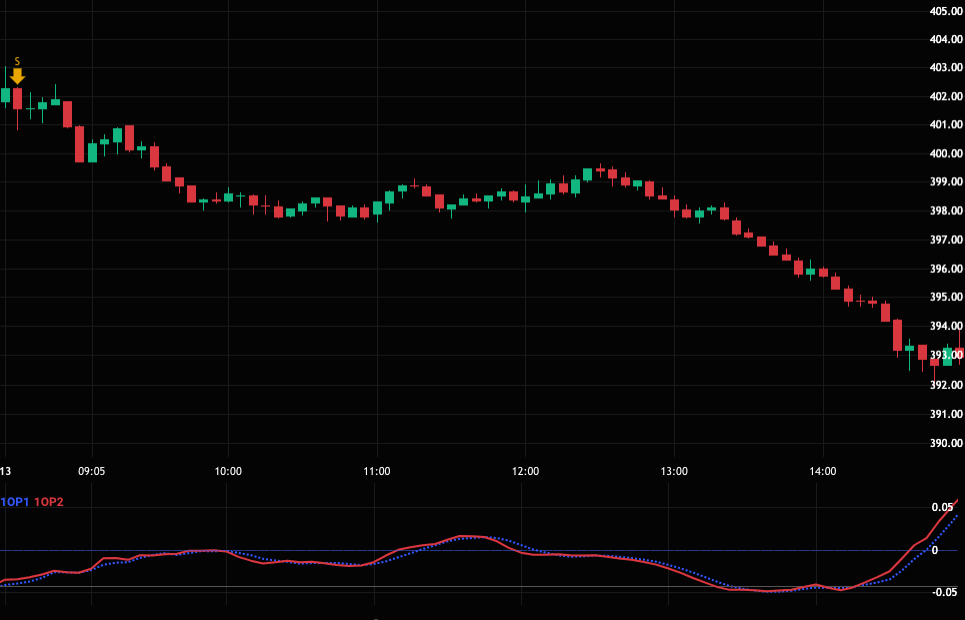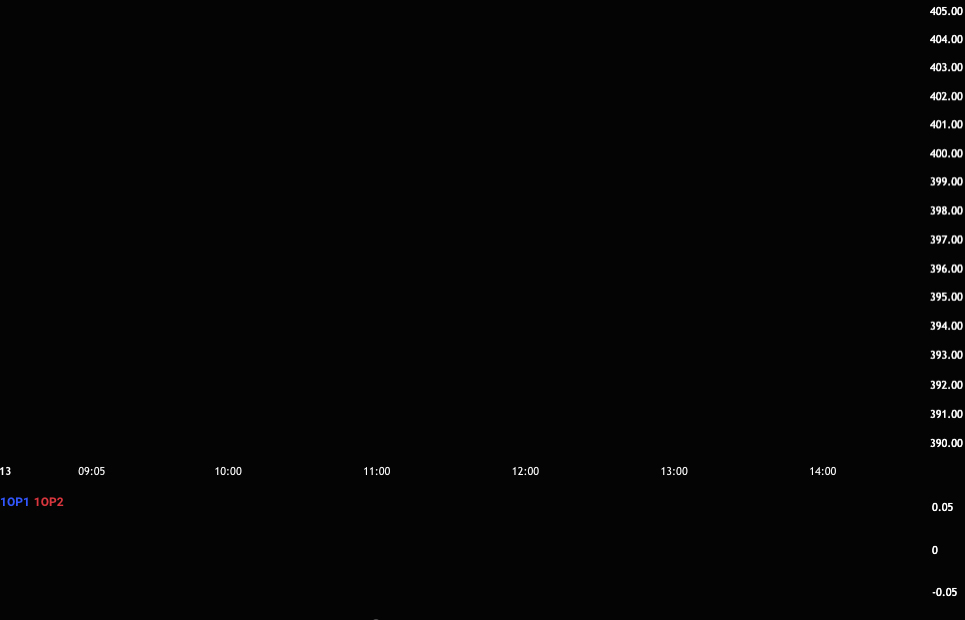 All Comments
Click to expand content and reposition slider.
08:45:16




Pete

There goes the opening gap up. I recorded a video earlier this morning. I will try to have it out before the open. I talked about market transitions, how to spot them and how to trade them. I also covered...

09:29:30




Pete

PRE-OPEN MARKET COMMENTS TUESDAY – The market found support at the up trendline from July last week and it was able to bounce above the major moving averages. This morning that bounce will be challenged after "hot" inflation numbers and...

09:33:34




Pete

09:53:27




Pete

Bears want a tiny wimpy bounce during this bullish cycle that can barely test the 50-day (403.27). Then the next bear cross will be a good one.

09:54:06




Pete

Bulls wanted stacked green candles. We are not getting that. 

10:01:27




Pete

Short short SPY 1/2

10:02:22




Pete

$400.50 was my entry price. I will add on follow thru. Wanted to go 1/2 because 1OP has not completely crossed

10:06:15




Pete

I don't mind a bounce, but half of that red candle needs to hold. Stop is at entry. I want to see continued pressure on  this bear cross.

10:15:42




Pete

Still in short. I placed a hard stop at $400.70

10:16:16




Pete

1OP is going higher and want to give the trade a tiny more bit of room. Still only 1/2 position

10:16:41




Pete

If I do not get a breakdown in next 10 min I will lower stop to entry price

10:19:10




Pete

Exit SPY $.20 loss on 1/2 position. 

10:22:47




Pete

Are we above  the 100-day MA? No. Are we getting wimpy upward price action on this bullish cycle? Yes, in fact market a little lower. This is a time to short stocks with real weakness. We do not have a...

10:31:21




Pete

1OP bear cross should be in next bar or two

10:34:06




Pete

Short SPY $400 1/2 position

10:38:08




Pete

Short SPY $399.30 1/2

10:38:35




Pete

My ave is $399.65 on the short

10:39:07




Pete

I have the follow thru selling I want and this massive 1OP spike has been a giant bear div M5. 

10:39:35




Pete

This should be a good bear 1OP cross and it is coming.

10:40:39




Pete

If you don't have confidence in your indicators, there is no way you would be able to mentally short this move. Watch the price action and watch 1OP. 

10:41:56




Pete

These are mixed overlapping candles so on this bearish cycle we do want to see some nice stacking and no major retracements.

10:43:12




Pete

I believe we have the bearish cross, but I want that blue dotted line to be decreasing. 

10:44:39




Pete

$399.50 stop on SPY. That is below my entry and it covers my first tiny loss. Now I just have to manage the position and I have a bearish cross that is just starting. Bulls are about to throw in...

10:49:23




Pete

These are tiny little candles so expect a 1 green bar solo. if you are in the right stock, it won't be a problem. you have the SPY price action and 1OP cross to lean on

10:54:09




Pete

SPY $397.65 bid for 1/2. If I get a nice red candle here I will take partial gains

11:00:29




Pete

Exit SPY $1.30 gain

11:01:33




Pete

These tiny little candles could setting up for a tiny bounce. This is only for SPY/ES. for stock i would not sweat the bounce

11:07:42




Pete

1OP blue line finally starting to flatten out so we are getting the type of cross I like. I am ready to re-enter SPY short, but just want to see what if any bounce we get here. A mere pause...

11:25:35




Pete

as far as SPY, I can't short these tiny candles at the lod. The chance for a long green bar is too high.  If I get one, I will short. anything around $399 will work for me if it comes...

11:45:22




Pete

Not a very big bounce, but enough to tell me there is steady selling pressure. I want this leak lower to continue and I would like to have some breathing room. This is not an easy market to short futures...

11:45:52




Pete

Short SPY $397.80

11:50:11




Pete

I have a $398.50 stop and I need to see a new lod in the next 10 min to stay in. I need some cushion soon.

11:56:39




Pete

Exit SPY $.25 loss. Just not getting follow thru. 

11:57:33




Pete

I saw the mini bounce and a couple of red candles and they did not lead to a new lod. We are compressing in a super tight range so for SPY there is nothing here to trade

11:58:39




Pete

This is also the pattern we have seen this year on big gap and go formations. Make the move in the first 90 min and compress. This has been true on the up and downside. 

12:04:46




Pete

On a D1 basis, this is a nice breakdown of the MAs and we are likely to close near lod. That D1 up trendline is in range this week. If we take that out, I will have enough confidence to...

12:51:47




Pete

I still consider this last leg up to be part of a very long bullish cycle. 1OP has been very persistent on the upside. Let's see if we can finally get something going on a bearish cross. Extremely tight price...

12:58:40




Pete

Short SPY $398.40

13:01:44




Pete

Why here and why now? SPY is at the top of the compression and it has not been able to stage any decent rally. That decreases the chances of a big bounce (low risk shorting). All of the longer term...

13:02:12




Pete

None of this means I am going to make money on the trade, but they are the reasons behind my shorting here

13:04:02




Pete

If I do not get the move 15 more minutes into this bear cycle, i will take gains. I am not going to park butt, I just see an opportunity for a leg lower

13:04:27




Pete

I should say I will exit the trade. I don't know that there will be gains

13:14:00




Pete

This bearish 1OP cross is not producing anything... yet. I have a bid in to scratch the SPY trade at $398.40

13:28:22




Pete

Exit SPY $.80 loss. Just nothing there for SPY traders. 

13:33:11




Pete

As a trader when you get a gap up, you want either a gap reversal (lots of room to the downside and fast moves) or you want a gradual drift lower into the gap with most if it preserved (that...

13:34:29




Pete

These gap and go formations are garbage for day trading. Most of the move is exhausted on the opening rally and pop. You have to act quickly or you will miss the move. You also have greater downside risk if...

13:36:31




Pete

Same logic for gaps down. We fell for an hour and that was the move. 

13:53:22




Pete

Short SPY $398.65

13:53:57




Pete

I will give this one more shot. I at least expect to test the lod. 1OP is finally starting to gain some traction.

14:20:39




Pete

Exit SPY $.50 gain

14:22:41




Pete

If I had a long red candle in there anywhere to attack the lod, I would have given it a chance to breakdown. With the creep lower I have to play it safe. 

14:23:37




Pete

On a long red candle thru lod we have to make sure it is not just to trigger sell stops. Any follow thru we can short. 

14:40:21




Pete

I did reshort. was recording a video with LEN

14:42:29




Pete

We got the breakdown and follow thru. 

14:44:16




Pete

If you reference Aug 26, this is a similar pattern. That was a gap reversal so the selling in the first 2 hours was heavier, but you can see how the market was not able to get off the deck...

14:47:45




Pete

14:53:40




Pete

Took nice gain SPY. 

15:47:27




Pete

Long SPY $392.80 1/2 position buy stop. just looking for a closing bounce and I will get filled on the way up. 

15:50:06




Pete

Long SPY $292.80 1/2

15:51:09




Pete

Offering $394.80. That's right 20 pts higher

15:51:49




Pete

Hariseldon wrote: NOTE - Pete can make that kind of trade - YOU cannot - don't follow it - watch it, study it, but don't follow itCorrect. This is for pros. You should not even be trading /ES

15:52:30




Pete

For sure this does not change my opinion of the day. This is bearish as hell.

15:53:17




Pete

$392.50 stop. I don't want to go back there and very little time left

15:56:57




Pete

stop at entry price now. 

15:58:02




Pete

This is probably not a trade I should be showing you, but we were due for a bounce and I had 1OP backing me up. Also notice it is only 1/2 position

16:01:38




Pete

Exit SPY $.90. Got some follow thru after bell

16:12:12




Pete

It is so great to see everyone have a great day. Congrats Hari on a record day!

16:12:34




Pete

Many of you were licking your wounds after last week and today seemed to provide a shot in the arm. 

16:13:39




Pete

If you took a beating last week, I still urge you to keep your swings to a minimum. With moves like this, you do not need a bunch of overnight exposure. 

16:26:55




Pete

I could not believe it stayed on that bullish cycle today when everything was falling apart. 

16:28:40




Pete

16:31:43




Pete

Zander wrote: Question Is the 6/17/22 - 7/14/22 algo line on SPY still valid support or should it be re-drawn to connect 6/17/22 to the 9/6/22 low?Mine is not an algo method, but without fudging too much, I draw through tails...

16:45:17




Pete

16:45:35




Pete

This is how the day played out and where I commented

16:46:46




Pete

Dman77 wrote: It's been mentioned a couple times today that 1OP worked well - from the 12:40 bearish cross, but it took another 1.5 hours to turn over and confirm by breaking the LOD.  Is it normal for 1OP to...

16:47:32




Pete

BTW, tomorrow is going to start on a massive spike. Any weakness and we will have it to lean on.

16:48:02




Pete

I will be watching the futures tonight. If it looks like that trendline D1 is going to fail, I may jump on board.

16:59:07




Pete

When 1OP behaves as you would expect it is super easy and crazy how well it works. When it doesn't do what it is supposed to, it is not broken. It is sending you an important message that conditions are...

17:02:30




Hariseldon

17:10:43




Pete

@Hariseldon That is an incredible chart. Back then the Fed was our "friend" and they were trying to save us from a credit crisis. Now they are enemy #1 and they could push us into one.