Daily Market Analysis
Review our intraday commentary to learn how we interpret price action and build a market narrative.
Drag the blue slider to reveal the day's price action. Dots on the timeline represent comments and can be clicked. View the table below for all market-related comments and annotated charts (including those from after hours).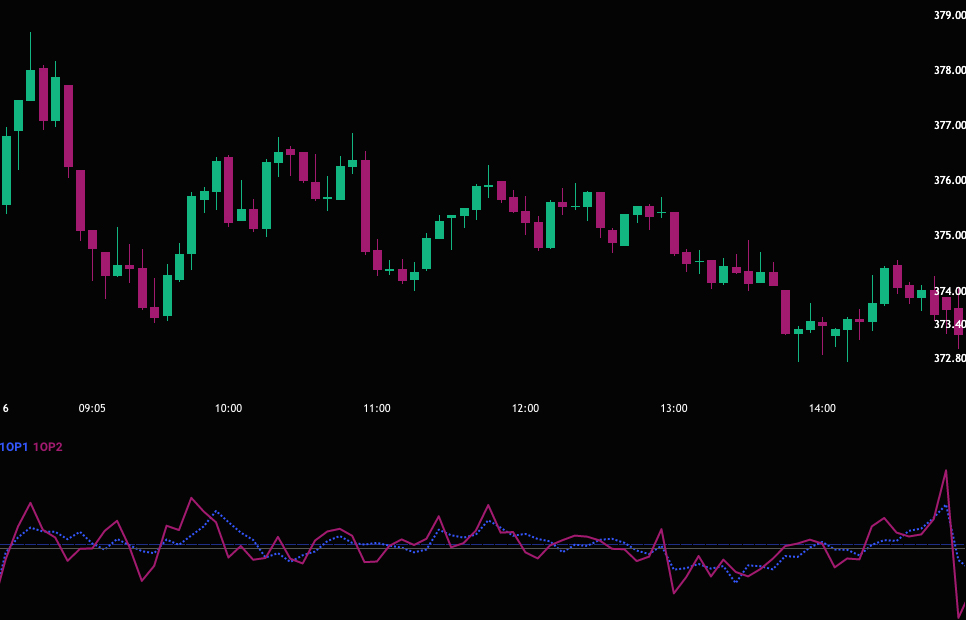 All Comments
Click to expand content and reposition slider.
07:54:53




Pete

@aerfg Confidence comes with time and experience. That is why it is critically important to trade small when you start. When you don't have a strong win rate for at least a few months you question every decision and you "chicken...

07:58:33




Pete

When I went to bed my overnight was up 20 pts and I was feeling pretty good about it. This morning... not so much. I expected a gap up. 1OP is spiking and we had a couple of long green...

08:02:50




Pete

When the Featured Trader are posting and we are contradicting each other the message is clear. Trade at your own risk and know that conditions are volatile. We are battling it out just like the big money is. It is...

08:06:03




Pete

Seeing different perspectives is helpful for you. You can see both sides and you can learn the the rationale behind the trades. None of the Featured Traders pull ideas out of thin air. They have firm reasons for taking their...

08:07:48




Pete

"But Pete, I'm confused." Don't trade. "But Pete I'm scared." Don't trade. 

08:08:55




Pete

But Pete is super confident on this one and I want to make money. That is not a good reason to take a trade. 

08:12:39




Pete

I feel that the Featured Traders do a good job of explaining why they feel the way they do and of tempering excitement. If all I ever tell you is to be cautious, that is NOT going to help you....

08:42:09




Pete

Hari posts every trade in great detail along with his logs and results. There is no greater education you can have and he wants to lead the room. I want him to lead the room. DaveW just consistently post winners...

08:46:15




Pete

My trades and my P&L are sacred to me. I feel as though that is one last little piece of my privacy that I get to hang on to so I don't post it. Everything else is in plan public...

08:51:14




Pete

Because of my time constraints, I can only comment on S&P 500 and that is all I would be trading. I don't want to post those trades because then this becomes an S&P 500 chat room with everyone following my...

08:52:27




Pete

I've been itching to trade, I saw a good set up, it is important for you to see me do a trade... so I did it. 

08:52:59




Pete

Exit ES 3790 for scratch

08:53:35




Pete

I was willing to hold it as long as it stayed above my entry price on that last pop and it fell back. Now I will just wait for the open.

09:07:59




Pete

Initial jobless claims at 219K. A small uptick, but still a very low level and that bodes well for job growth tomorrow.

09:30:42




Pete

PRE-OPEN MARKET COMMENTS THURSDAY – Yesterday the market tested the bid after a very strong rally Tuesday. Buyers supported the gap down before it was filled and this sparked a nice rebound that almost closed above the high from Tuesday....

09:38:58




Pete

I want to see half of the long green candle hold during the last part of this 1OP bear cycle. If we loose the open during the cycle it would be bearish. If we hold the half-way point and we...

09:40:48




Pete

This is fairly bullish price action. We instantly erased the overnight loss and this could have been a bid check already. Buyers defended the rally yesterday

09:43:37




Pete

3 stacked green candles to start the day is bullish.

09:46:29




Pete

Getting the bullish 1OP cross and I am ready to buy 1X

09:50:02




Pete

I need to see the close from Wed hold and a bullish hammer off of that test. This is NOT consistent with stacked green and the retracement tells me to temper my bullishness and to be patient.

09:57:33




Pete

Lower highs, mixed candles... no need to get long yet. I would like one more nice probe for support and an instant bounce. That would tell me buyers are still there. Choppy price action so far. Good time to look...

10:03:39




Pete

These are some long mixed candles. Right now your mindset should be... don't trade. This is why 90% of the time or more your best move is NOT to trade the open. Very valuable information.

10:07:34




Pete

Any thoughts of heavy buying and blowing thru the prior high early have been dashed. For me it means another bid check is going to happen and that you can't buy until you have clear signs of support. During that...

10:08:30




Pete

As long as I don't trade, I am in control. Stay flexible and see both sides.

10:18:13




Pete

Lower highs, long red candles. There is selling pressure for sure. Typically the pattern I highlighted produces a nice gap up the next day and very little retracement. It is "go-go" mode. When you do not get that, it is...

10:19:28




Pete

If this bullish cycle barely recovers the open, I will have no issue shorting a bearish cross. 

10:30:16




Pete

This price action is bearish. 1OP in a bullish cycle and not even a bounce. 

10:37:21




Pete

Short ES 3763

10:38:54




Pete

Half of the last long red candle is holding and we have a bear cross. Unlike the action we had yesterday (mixed overlapping candles and tiny candles) these are substantial on the way down. Now that I have a bear...

10:40:45




Pete

I don't mind bounces that leave wicks, but i do not want a bullish engulf. 

10:46:41




Pete

I have a fairly low level of conviction here. I wanted the halfway point on that red candle so I am bidding to scratch. I if I am not filled I am ready to stop out

10:48:45




Pete

Exit ES 10 pt loss

10:51:07




Pete

I won't post until I have something really firm. These moves happen so quickly and by the time I can type a sentence the /ES has move 15 pts

11:38:36




Pete

That is a whole lot of noise so far today to get right back where we opened. Conclusion: Choppy wild swings. Keep it light.

12:25:36




Pete

The market is all over the board and it is  the middle of the day. I will join Hari on Twitter and hit a few topics.

14:36:49




Pete

I view the action today as bearish. We did not gap up overnight and we should have. Buyers have supported the market the last two days and that should have given new buyers the confidence to dip their toe in...

14:39:54




Pete

When something should happen and it doesn't, that is new information. When we have a bullish 1OP cycle and the market does not move, that is new information and it tells us the next bearish cross is likely to be...

14:41:01




Pete

In this case a compression would be a sign that sellers are not going away. 

14:53:44




Pete

Given the new lod and the bullish 1OP cross pending on a very choppy day, I believe this new lod was just to trigger sell stops and that we will bounce. We will see. If we get a bullish hammer...

14:54:40




Pete

There is the bullish hammer. 

15:00:56




Pete

You should be taking gains on your day trading shorts

15:01:43




Pete

If we close above the open from the long red candle you would exit all of the day shorts.

15:11:26




Pete

I would have expected some lift after these bullish hammers but we are not getting that. This selling pressure is pretty steady and we could get follow thru

15:48:45




Pete

16:02:27




Pete

In my opinion a poor jobs report would be devastating for the market. The Fed does not care and they've said as much. Strong employment is the only thing holding the market up at this stage and if that goes...

16:05:05




Pete

A strong jobs report could prompt selling. Regardless of the market reaction, I want to see strong job growth. I like it when people are employed. Things get very gloomy when people get laid off. 

16:24:21




Pete

Crux wrote: @Pete Speaking of gloomy... I am under the impression that for us day traders it would be best to have a recession soon and get it over with versus keep teasing that we are going into a recession....