Daily Market Analysis
Review our intraday commentary to learn how we interpret price action and build a market narrative.
Drag the blue slider to reveal the day's price action. Dots on the timeline represent comments and can be clicked. View the table below for all market-related comments and annotated charts (including those from after hours).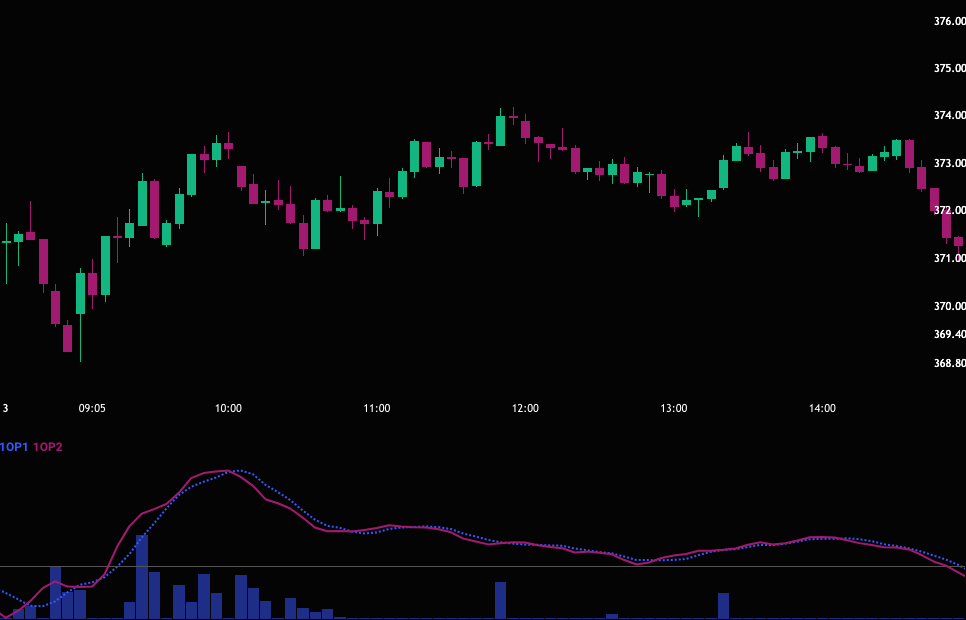 All Comments
Click to expand content and reposition slider.
07:42:09




Pete

Short ES 3739

07:43:56




Pete

I have a bearish 1OP div, weak overseas markets and a D1 breakdown for ES post FOMC. The follow thru selling overnight confirmed the initial reaction. 

07:45:01




Pete

I am bidding $3729.

07:56:11




Pete

08:02:17




Pete

ES 3739 for scratch. There is a little movement here

08:02:53




Pete

The open from that candle was breached and I will look for a better entry.

08:04:52




Pete

The one thing to be mindful when trading before the open is that there are econ releases at 8:30 AM ET many days and you want to avoid those. You can trade after the release, but best not to have...

08:11:20




Pete

It was probably not a big news  item, but if you were trading /ES you could tell that the nature of the move changed at 8 am ET. All of a sudden the volatility increased up and down. To that...

09:08:30




Pete

PRE-OPEN MARKET COMMENTS THURSDAY – Yesterday Jerome Powell put a lump of coal in our stockings and he squashed any chances for a year-end rally. A slightly less hawkish tone would have done the trick, but instead he doubled down....

09:10:03




Pete

Good morning!

09:40:05




Pete

I want to see a little bit of this bullish cycle before I short

10:18:08




Pete

After 45 min we are right where we started the day. Mixed candles with overlap and not much direction so far. From a short standpoint I want to see the gap hold during the rest of this bullish cycle and...

10:28:36




Pete

I did not want to see us make a new hod. They are going to see if they can put some pressure on shorts now that we are in the gap. 

10:31:39




Pete

From a bearish standpoint I want to see that last green candle fail immediately and I want 1OP to roll over

10:38:36




Pete

Volume has been pretty decent this morning so we have a chance for some movement. 

10:45:11




Pete

1OP is still keeping me sidelined. I wanted to see that red candle preserved from a bearish standpoint and we are retracing it. For me to short /ES I would need to see a nice red candle thru $371 in...

10:49:10




Pete

Sellers did not have the power to keep a lid on the rally and I view that as bullish right here. Now they will try to fill the gap. I am not suggesting trading from the long side when the...

10:56:53




Pete

There were some questions regarding 1OP yesterday. For me it kept me out of an early short today. I wanted to see if the bullish cycle produced anything and it did. Now I have a M5 up trendline drawn. If...

10:58:04




Pete

Avoiding a loss is just as good as making money on a trade in my book

10:59:40




Pete

So what gets me bullish? Given the nasty D1, it would take more than these overlapping candles. I would need to see a couple of stacked green candles. Then I would want to see a benign bearish cycle with the...

11:04:06




Pete

Most of these gaps will fill. Bullish traders are expecting it to reach that target. we are seeing tiny bodied candles and that is a sign of resistance. We also have a bearish 1OP cross pending and overseas selling. Don't...

11:04:44




Pete

Do you know what happens when everyone is expecting the gap to fill?

11:09:10




Pete

11:09:40




Pete

This is what happened 3 days ago. Looked like we were going to fill the gap and then we sold off

11:10:12




Pete

I am ready to short

11:12:56




Pete

Short ES 3741

11:15:25




Pete

Under what conditions can we feel pretty confident that an M5 down gap will fill? What are the technical signs? Send your answer to [email protected] and I will post the best one here. Winner gets 30 days added to whatever...

11:20:22




Pete

ES 3741 stop (entry)

11:22:53




Pete

I am still in the trade. On the next drop I will enter a hard stop. I need to get to some projects. 

11:23:12




Pete

I like this short and I like that we are getting the move early in the bear cycle

11:26:02




Pete

Now I entered a hard stop (working order) at 3741 (entry). 

11:27:52




Pete

Exit ES scratch. I suspect this trade would have worked out, but I don't have time to watch it. 

11:35:15




Pete

Awesome answers to my question traders. I love it when you all get it. Keep them coming. 

11:48:23




Pete

1. FOMC hawkish. 2. Uptrend line breached D1. 3. < 50-day MA. 4. Gap down today. 5. Not able to fill the gap. 6. Bearish 1OP cycle just starting and it is producing. All of this information is called context....

12:02:40




Pete

It's confirmed. You are all as smart as I thought you were. The lessons are sinking in and we have an army of well-trained traders. There is no stopping us. Many of you are making money now and I promise...

14:02:37




Pete

@kugelis hit a key point that I was looking for and that was the D1 context. Congratulations! I added 30 days. "We can expect a gap fill when we have seen nice stacked green D1 candles that open on their...

14:23:53




Pete

Selling BPS is a great strategy and it can last for many years on end. Fantastic swing strategy because it is low maintenance. Find strong stocks, sell below tech support, set an alert at tech support and let time decay...