Daily Market Analysis
Review our intraday commentary to learn how we interpret price action and build a market narrative.
Drag the blue slider to reveal the day's price action. Dots on the timeline represent comments and can be clicked. View the table below for all market-related comments and annotated charts (including those from after hours).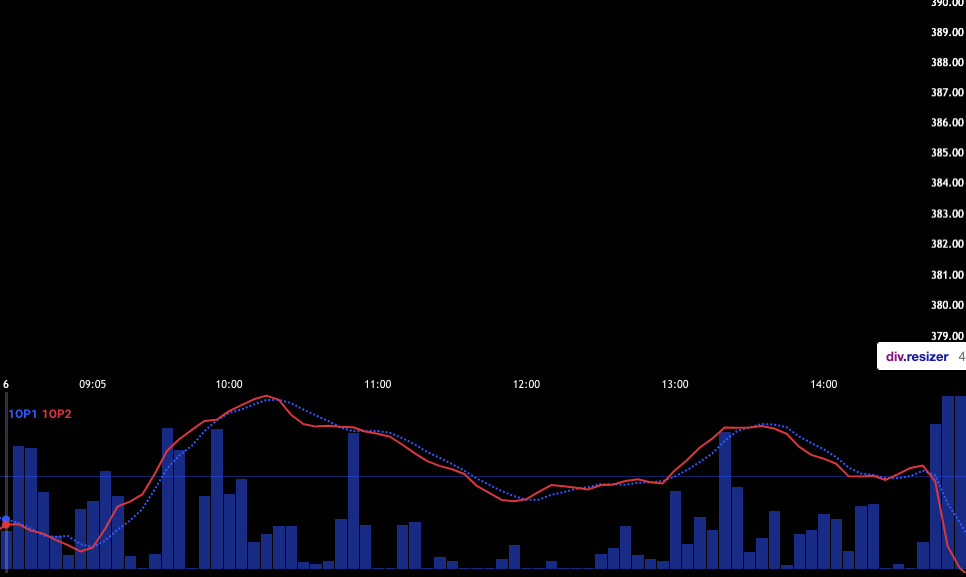 All Comments
Click to expand content and reposition slider.
09:29:12




Pete

Good morning! Good jobs number sparked some excitement. Don't forget, ISM serv 30 min after open. $387.50 is resistance for SPY. Until we get above that or below the low from Wed, this is all noise and we are in...

09:29:53




Pete

If you have the right stock (long or short) you will have opportunities. 

09:33:49




Pete

1OP is in a deep trough. If you get stacked red candles in the first 20 min, that would signal a gap reversal and possible down trend day (unlikely). If we get stacked green candles bull trend day (unlikely). Best...

12:46:33




Pete

SPY filled the gap right away. The 1OP bullish cross early in the day produced immediately and we recovered those red candles instantly. This bearish cycle has not produced, but it is not over yet. Be patient. If the bearish...

12:50:00




Pete

If we start to leak oil in the last part of this bearish cycle (and 1OP is in a steady path lower so not likely to stop at zero) we could see some red candles start stacking. If that happens...

14:04:10




Pete

SPY stayed nice and tight to the hod during that bearish 1OP cycle and this bullish cross produced a new hod. Looks like a good finish to the week. 

15:32:21




Pete

@#$% missed a nice day, but that is OK. Super excited about what I got done. We should have a strong finish today. SPY did not flinch during this 1OP bear cycle

15:33:34




Pete

We marched right thru the $387.50 resistance I referenced and we have a small gap to fill from 12/16

15:41:47




Pete

Stocks in the RedHot search are all great lotto candidates

16:12:15




Pete

16:12:36




Pete

That is how the day played out. Much better than yesterday.